Small towns outside of Cape Town
Posted on Tue November 17, 2020.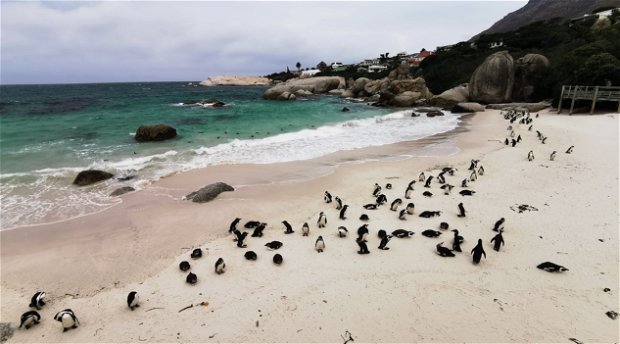 The festive season is around the corner, and summer is here!
With Cape Town holding such wonderful activities, sceneries and excellent accommodation, you can be sure to have a great time.
Whether you want to travel internationally to South Africa or if you are local, Cape Town is a beautiful place to explore. When planning your next Cape Town vacation, there are a few small towns worth visiting, and below we will discuss a few of our favourites.
Simon's Town
Simon's Town is a quaint little town with a lot of history, friendly people and home to the countries largest Naval Base in South Africa. 

Activities such as Boulders Beach and visiting the African Penguin is top of the list of things to do. With a minimal entry fee, you can enjoy the spectacular views of False Bay while enjoying a swim on the private beach while watching penguins enjoying the rock pools all the same. With other activities like Simon's Town scratchpad or a visit to the Naval and town museum also makes for extraordinary experiences. 

The town is excellent if you feel for a weekend getaway with lots of rest and relaxation.

Located 40 km from Cape Town CBD. This short distance drive makes for a beautiful day trip and offers activities for a family of any size. Day trips can quickly be booked with a professional guide and driver who will collect you from your accommodation and return you safely after your visit. 
Franschhoek 
For the love of wine, food and hiking! If you enjoy any of the three mentioned, then you have to make a turn in Franschhoek. Taking centre stage to the Winelands backdrop, following a scenic drive through the mountains to Franschhoek. 

Only an hour drive from Cape Town and famous for its collection of wine estates and Cape Dutch farms making distinguished South African Wines.  

Highlights and local favourites include tasting wines and food on the wine trams, guided hikes or making a road trip. You can be sure that foodies, adventurers and wine connoisseurs alike will enjoy all Franschhoek and the Winelands has to offer. 

Langebaan
A great weekend and micro trip destination or if you are road tripping up the Atlantic Seaboard, this is a definite stop-over en-route. 

Langebaan is another small town located in the Western Cape and about 1 hour and 30-minutes drive along the R27 from Cape Town CBD - making for the perfect road trip along the West coast. 

Known for spectacular seafood as the town is located along the Atlantic coast and home to fishermen. Bragging with a lagoon that offers excellent water activities for children and adults. 

Many accommodation types are also available to suit every size of family - whether you are getting together as a family or just wanting a weekend getaway with your loved one. Langebaan is famous to locals and with the nearby casino, golf course and put-put course to entertain you. 

Hermanus
Hermanus is world-renowned as one of the best whale-watching destinations. 

This seaside town is located 125 km southeast of Cape Town. It's known as a whale-watching destination with great beaches such as Grotto Beach, overlooking Walker Bay and Voelklip. 

With excellent self-catering accommodations, boutique guesthouses and hotels offering friendly service and again suiting the romantic couple or the family with children. Thousands of local and international travellers visit the town annually during the Whale festival taking place in September. Worth the wait and worth the visit. 

There are so many quaint towns outside of Cape Town such as Tulbagh, Darling, Stellenbosch, Grabouw and so much more. Arranging your day trip together with your local tour operator or just doing a self-drive tour around the outskirts of the Mother City - each town offers a unique holiday experience.

Cape Town makes for the perfect getaway if you need some quality time with loved ones while refreshing your soul with breathtaking views, soaking up the sun while tasting good foods and wines.

With alternative activities, such as boat cruises, shark cage diving or visiting the museum, you can be sure to feel refreshed and revived after a visit to each of the unique towns.