5 Fun Activities in Simon's Town
Posted on Wed December 2, 2020.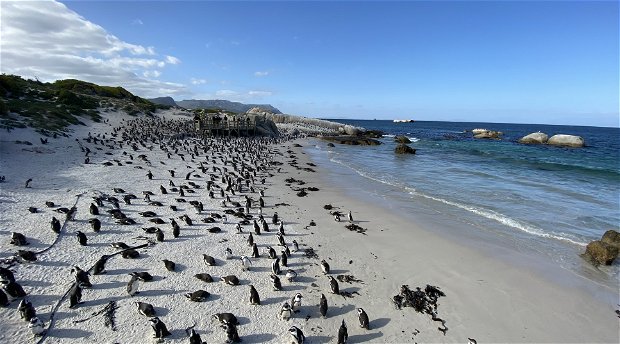 Simon's Town is famous for its naval base and vast history. It is a interesting spot to explore with many activities and beautiful scenery. Some activities we will be exploring include:
Boulders Beach
Whale Watching on the False Bay Coast
Scenic Charter Cruise To Seal Island
Cape Town Water Bikes
Cape RADD
BOULDERS BEACH
Boulders Beach is located near Simon's Town and is popular for many reasons. The area is calm and covered with round boulders, the turquoise ocean in view, and home to many African penguins. It is one of the most popular beaches in Cape Town, locals and tourists from all over the world come here to see these cute and unique birds.
Old granite boulders have been shaped for millions of years by wind and water erosion causing them to become rounded in shape. These boulders give amazing protection from massive waves and strong winds making it the perfect place for a warm sunny day at the beach. With water from the Indian Ocean and the Atlantic nearby, the water is slightly warmer here making it perfect for those who prefer warmer, tranquil waters.
The African Penguin is definitely the main feature of Boulders beach, With a massive colony of around 3000 birds. There are three boardwalks with a penguin viewing area from where you can watch the majestic birds swim, play, eat and care for their hatchlings. These penguins can be found in Port Elizabeth in the Eastern Cape all the way to Namibia, but they are mostly abundantly found at Boulders Beach and the nearby Foxy Beach.
Simon's Town is well known as a naval base which has a interesting diversity of boats and ships in its harbour.  It is a charming little town with many restaurants making it an ideal place for dining. Simons Town is less than and hour away from Cape Town.
WHALE WATCHING ON THE FALSE BAY COAST
Simon's Town Boat Company is the only permit holder for boat based whale watching for western half of False Bay, This stretches all the way from Strandfontein to Cape Point.
The location is guarded from the open ocean, with breathtaking views all around and provides the perfect winter habitat for the Southern Right Whales. Every year between June and November, the whales arrive to mate, give birth and escape from the freezing waters during the Antarctic winter.
The experience of a lifetime awaits those that come to see these awe-inspiring mammals alongside their boat as they swim around, breach the surface and wave their tails. During the boats ride it is also a common sight to see Humpback whales, Brydes whales, Orcas and Dolphins.
SCENIC CHARTER CRUISE TO SEAL ISLAND
On this trip, the boat takes us along the shoreline to Seal Island, passing Glencairn close to Simon's Town, the Clan Stuart shipwreck, Fish Hoek, onto the bohemian village of Kalk Bay and then to Muizenberg. The cruise takes roughly 2½ hours.
Seal Island is home to approximately 75 000 Cape Fur seals, many species of birds and the powerful Great White shark. These shark are very active and especially ferocious during the winter, one can view the predators hunting from the surface which is a unique experience you can't find anywhere else.
From Seal Island, we head to Boulders Beach, home to the famous large colony of endangered African Penguins.
From Seal Island we make our way to Boulder Beach, home to the popular large colony of endangered African Penguins.
CAPE TOWN WATER BIKES
False Bay has many amazing scenes and beautiful views, with the chilly blue Atlantic Ocean and the charming little towns of Fishhoek, Kalk Bay and Simon's Town and stunning mountains in the background. Cape Town Water Bikes offers tourists and locals the chance to experience this beauty along with the excitement of exploring the water from the safety and comfort of these advanced water bikes.
While you peddle across the blue waters, look out for seals, dolphins and penguins. Between June and December you might even see some whales coming up to the water surface. You will go on one of to routes. Either you'll head to Boulders Beach, or you will head along the shoreline past the Clan Stuart Shipwreck, and then eventually turn around to head back to the naval base.
You can choose from guided tours to walk-in rentals. Cape Town Water Bikes is situated in Simon's Town from where they run all their operations. This is only 45 minutes from the CBD of Cape Town and about an hour from the airport.
ABOUT CAPE RADD
South Africa has some of the most beautiful and diverse marine life with a massive variety of species to be seen. Cape RADD offers visitors the chance to experience this and learn more about it with their bespoke courses. Situated in Simon's Town, Cape RADD offers SCUBA and free-dive training courses to showcase the marine environment and biodiversity. They also offer the exploration of shallow waters with snorkelling.
The trips start with a brief presentation where the local biodiversity and ecosystems are discussed. Participants will also be given some skills to identify some of the more common fish species that are likely to be spotted during their dive. Each dive or snorkelling excursion lasts for about an hour, giving you the chance to see the largest variety of marine fauna and flora, and to take some awesome underwater shots.
The Trips begin with a short discussion on the local biodiversity and ecosystems. Each dive or snorkel trip lasts roughly an hour, giving you the opportunity to experience a large variety of marine fauna and flora, and to take some underwaters pictures.
Snorkelling does not require any training or qualifications, but participants need to be proficient swimmers and comfortable in the water. SCUBA divers are required to have at least an Open Water Diving qualification. Those that don't have it can organise it through Cape RADD.
Simon's Town is famous for its naval base and vast history. It is a interesting spot to explore with many activities and beautiful scenery.